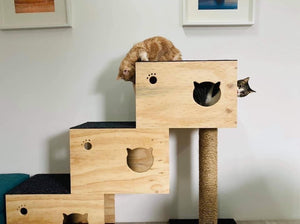 Scratch & Climb
Scratching is a normal, instinctive cat behaviour. They do it to express emotions, like excitement or stress, to mark objects with their scent or just to get a good stretch.
Our Scratch & Climb range are sturdy, offer horizontal or vertical scratching space with sisal and carpet for your cat to dig their nails in and get a good grip.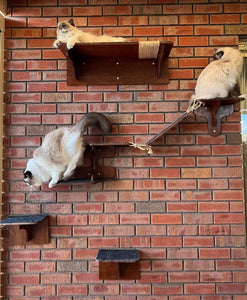 Vertical Play Systems
Vertical Play Space gives your cat much needed security and comfort of being up high. It allows them to survey many areas of the home or garden. Height can help cats aviod dominance lessening aggression between cats in the same home. Climbing is a natural behaviour and helps keep them physically fit.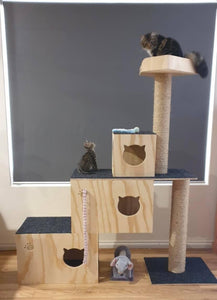 Custom Designs
We can design any custom piece for your cat. Send us your ideas and we will draw up a design for you.
Testimonials
Our cats enjoy the most amazing vertical space. Thanks to the fabulous products supplied by Cat Ledge. We can't thank you enough

Kerry Jones
1000% happy with Cat Ledges installation, my boys love it, my fosters loved it. Even was happy to make it in white for a modern home - thank you guys.

Amber Beattie
Amazing and cost effective cat tree design! I just picked up mine and it's awesome!

Josie Heywood