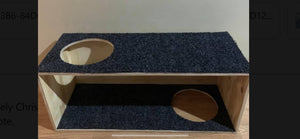 The Hide & Peep Shelf wall mounted shelf is wide enough for your cat comfortably lay around or wide enough for a food & water bowl to be placed up high away from toddlers or dogs. 800Lx 400Hx300w
Indoor Use - Pine varnished. 
Indoor Use - Painted white 
Outdoor Use - Marine ply 
Wall fixings supplied for brick walls. 
* Please note all items are made to order please allow 2-3 weeks.